Food Business Incubation Center
Your part-time commercial kitchen rental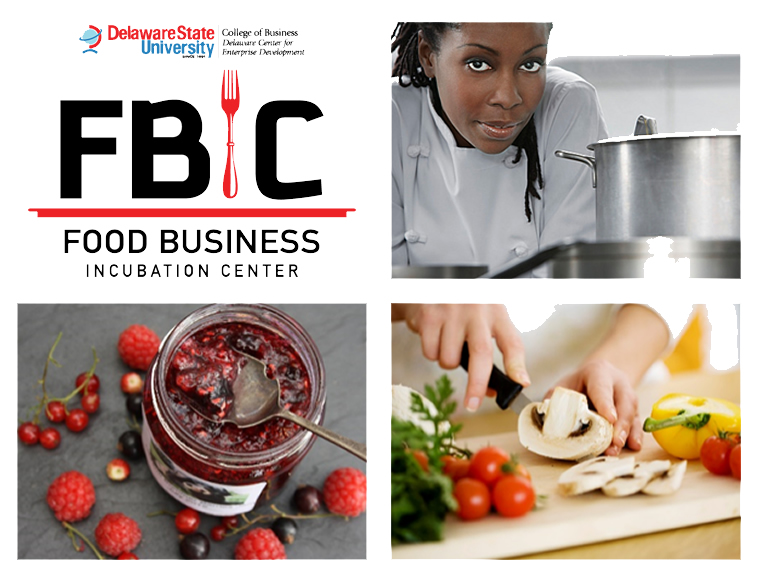 The Food Business Incubation Center (FBIC) is a fully-licensed, professionally equipped commercial kitchen for food service producers to start or expand their businesses. 
The shared-use facility gives prospective business owners a venue for food production without the massive overhead associated with owning and operating a commercial kitchen. The FBIC is open all year round and offers flexible hours. Rates are affordable and discounted based upon usage.
The kitchen is equipped with 18-stove top burners, gas convection oven, 50-quart mixer, 12-inch slicer, table-top mixer, work tables, walk-in refrigerator and freezer, ice maker, 3-compartment sink, and lockable dry-storage units. It has been inspected and approved for food processing, and is available for value-added product manufacturing, catering, and other food production.
FBIC staff partners with the Delaware Health and Social Services Office of Food Protection. Additionally, clients are offered training to support their business success including the ServSafe® Food Safety Program for Managers which provides a five-year certification in food safety and sanitation.
The FBIC provides technical assistance to new and expanding businesses, including business plan development and partners with the following organizations: Small Business Development Center, Procurement and Technical Assistance Center, State of Delaware Office of Supplier Diversity, Women's Business Center and First State Community Loan Fund.
To request additional information, please contact Lillie Crawford at lcrawford [at] desu.edu.
Ready to get started? Download the application.
The kitchen incubator at Delaware State University (DSU) is managed by the Delaware Center for Enterprise Development in collaboration with the Department of Hospitality and Tourism Management (HTM). The commercial kitchen incubator is located in the Bank of America Building on DSU's Dover, Delaware campus.