Lieutenant Colonel (Retired) Michael A. Hales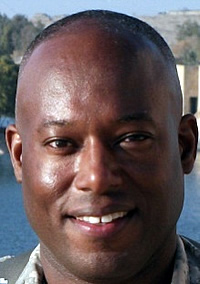 Lieutenant Colonel (Retired) Michael A. Hales is the current Director of Aviation Programs, at Delaware State University.  His leadership and responsibilities include both the Bachelor of Science student-majors with concentrations in Professional Pilot and Aviation Management.  He leads an experienced and dedicated staff of faculty and instructors who serve over 100 students, utilizing a fleet of 10 university-owned airplanes.
Lieutenant Colonel Hales is 25 year veteran of the US Army, who has served as an Aviation officer at multiple levels of key leadership positions and responsibility.  Growing up in Dayton, Ohio and South Bend, Indiana, he began his military career in 1987 as an enlisted Soldier in the US Army Reserves.  In 1994, he was commissioned as an 2nd Lieutenant and attended flight school at Fort Rucker, Alabama in the US Army.  His military assignments have taken him to multiple locations within the United States, and overseas to South Korea, Kuwait, Iraq, Saudi Arabia, and the country of Colombia, South America.  Lieutenant Colonel Hales has flown in combat and deployed five times, beginning with Operation Desert Storm back in 1991.
Lieutenant Colonel Hales is considered a subject matter expert in aviation operations, pilot training and aircraft maintenance training.  He is an FAA Commercial Pilot, dual-rated in both airplanes and helicopters.  He possesses a Bachelor of Arts degree from Excelsior College, and a Master of Arts degree in Procurement and Acquisition Management from Webster University.  Lieutenant Colonel Hales is excited to be working in his "dream job" as Director of Aviation Programs at DSU.  He has been married to his wife since 1993, and has two children in college.  His hobbies and interests include reading military and aviation history, skydiving, spending time with his family, and of course FLYING!  He brings an insatiable passion for all things aviation and a bold strategic vision for the future of the program.
Several highlights of his career include:
Deploying as the Aviation Advisor to the Commanding General of the Royal Saudi Land Forces Aviation Corps in Riyadh, Saudi Arabia.  There he managed a $2.3 billion dollar security assistance program that included their purchase of 12 AH-64 Apaches attack helicopters, 22 UH-60 Black Hawk utility helicopters and US educational training opportunities for military officers.  Additionally, he was instrumental in the establishment of the very first military Flight School within the Kingdom of Saudi Arabia.
Flying senior Department of Defense and US Army leadership on missions in and around the National Capital Region, with the 12th ​Aviation Battalion at Fort Belvoir, Virginia.
Deploying to Iraq as the Director of the Iraqi Flight School at Kirkuk Regional Air Base, Iraqi.  There he directed all Initial Entry Rotary Wing instruction for the Iraqi Army Aviation Corps pilot training and helicopter maintenance courses.  This also included providing initial instruction for flight and academic training of the Iraqi Air Force's pilots.  Under his leadership of a team of military and contractor instructors, they trained and graduated a total of 64 pilots and eight aircraft maintenance personnel.
Deploying to Colombia, South America with duty as the Director of their helicopter flight school, and graduating over 12 pilots and six aircraft maintainers.  During his leadership tenure, the school added four additional helicopters to their fleet of primary trainers.